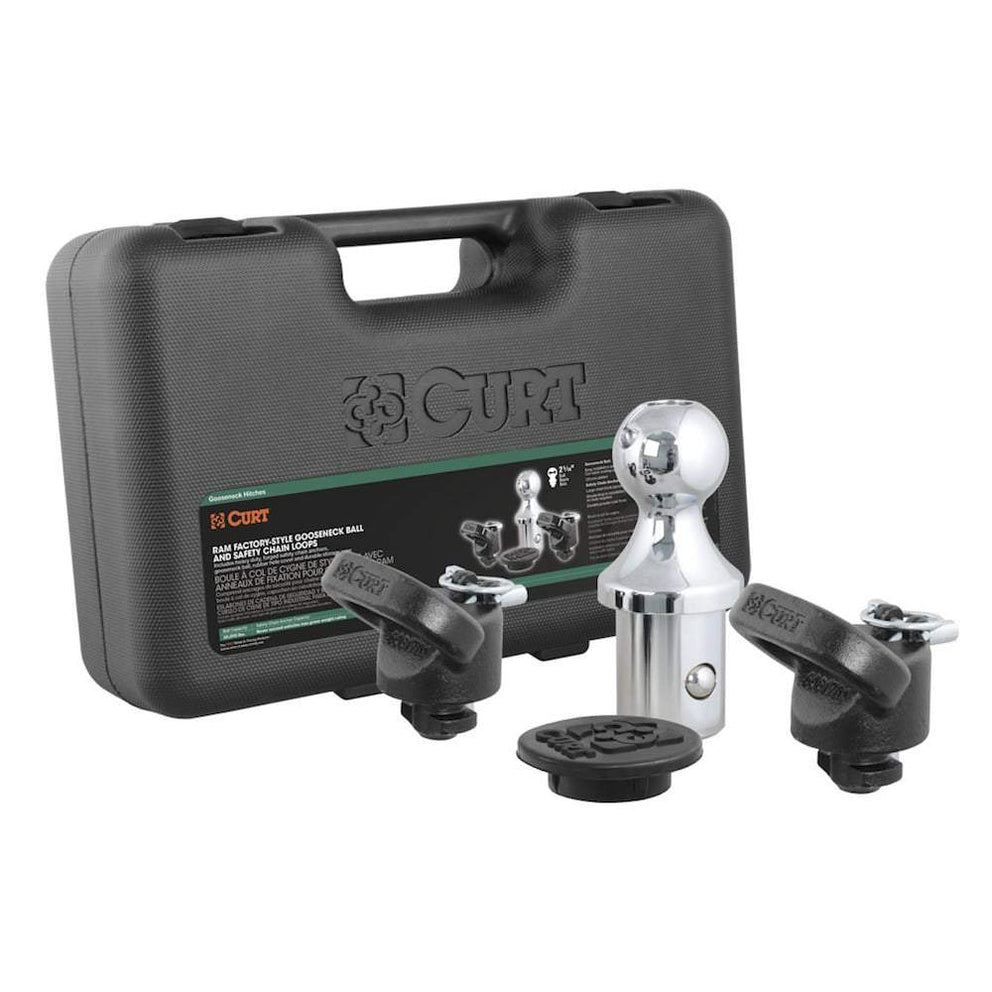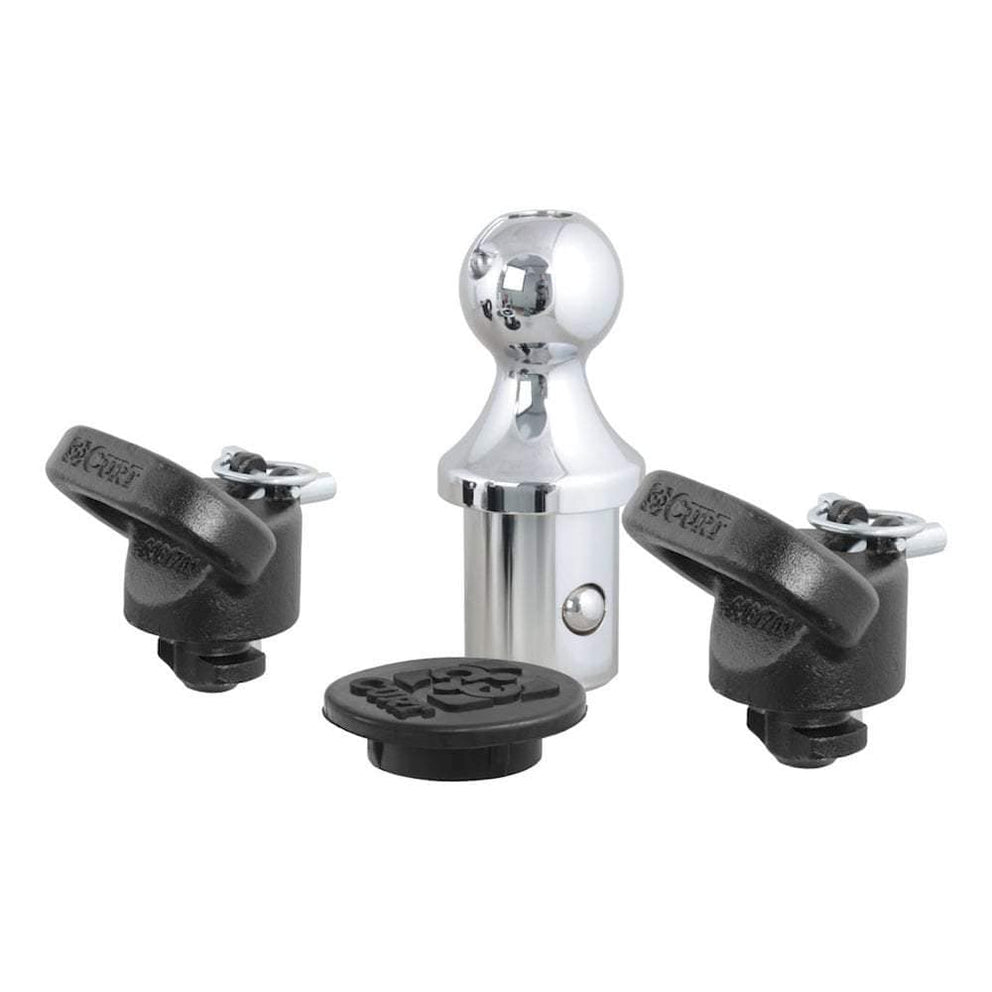 # cu60618
$336.99
Fits the Ram puck system 2-5/16" gooseneck ball installs easily with quarter-turn latch system Retention balls keep the shank fully locked into the hitch Simple, drop-in installation eliminates the need for tools Tested for safety to meet U.S. VESC V-19 specifications Cast steel anchors with durable carbide black powder coat finish Forged and machined steel gooseneck ball with chrome-plated finish Wide loop openings accept large gooseneck safety chain hooks Heavy-duty plastic storage case keeps components on-hand whenever needed Rubber hole cover helps prevent corrosion and debris in gooseneck ball hole Limited lifetime warranty (one-year finish, one-year parts) Notes: Requires Ram puck system for installation Includes gooseneck ball #60601, two safety chain anchors #60617, storage case and rubber hole cover Ball patent# 8,955,866; anchors patent# 9,452,647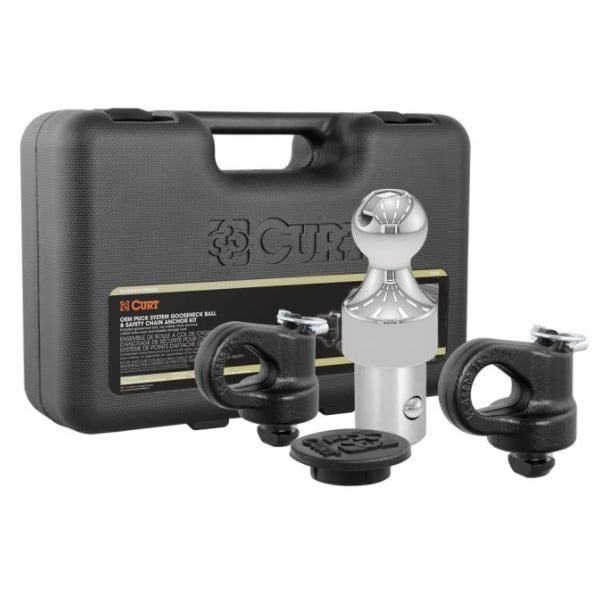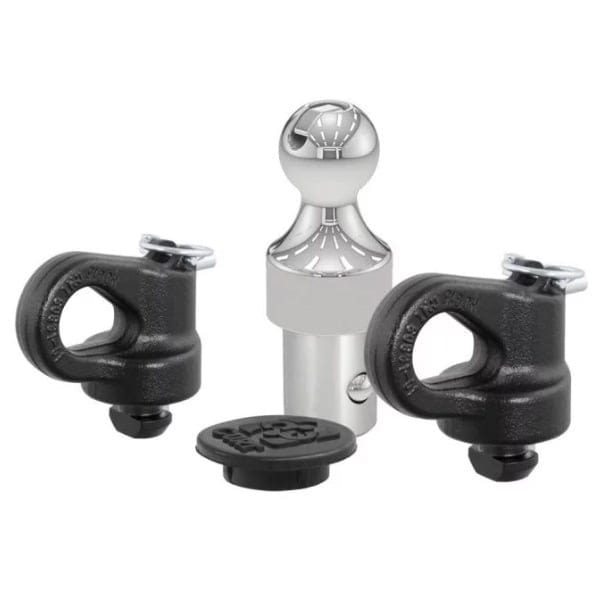 # CU60692
$319.99
Fits the Chevrolet, Ford, GMC or Nissan Titan XD puck system Rated for 30,000 lbs. GTW and 7,500 lbs. vertical load 2-5/16" gooseneck ball installs easily with quarter-turn latch system Retention balls keep the shank fully locked into the hitch Simple, drop-in installation eliminates the need for tools Tested for safety to meet U.S. VESC V-19 specifications Cast steel anchors with durable carbide black powder coat finish Forged and machined gooseneck ball with chrome-plated finish Wide loop openings accept large gooseneck safety chain hooks Heavy-duty plastic storage case keeps components on-hand whenever needed Rubber hole cover helps prevent corrosion and debris in gooseneck ball hole Limited lifetime warranty (one-year finish, one-year parts) Notes: Requires Chevrolet, Ford, GMC or Nissan puck system for installation Includes gooseneck ball #60629, two safety chain anchors #60691, storage case and rubber hole cover Ball patent# 8,955,866; anchors patent# 9,452,647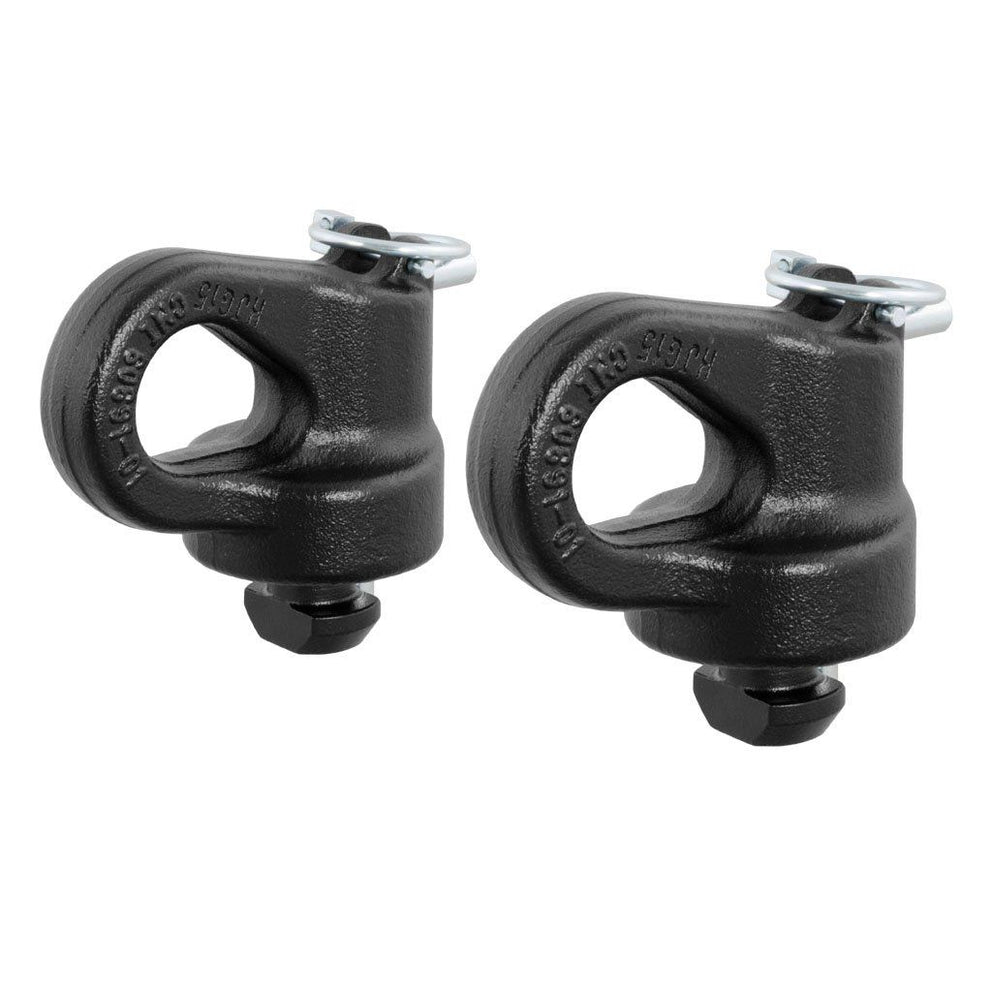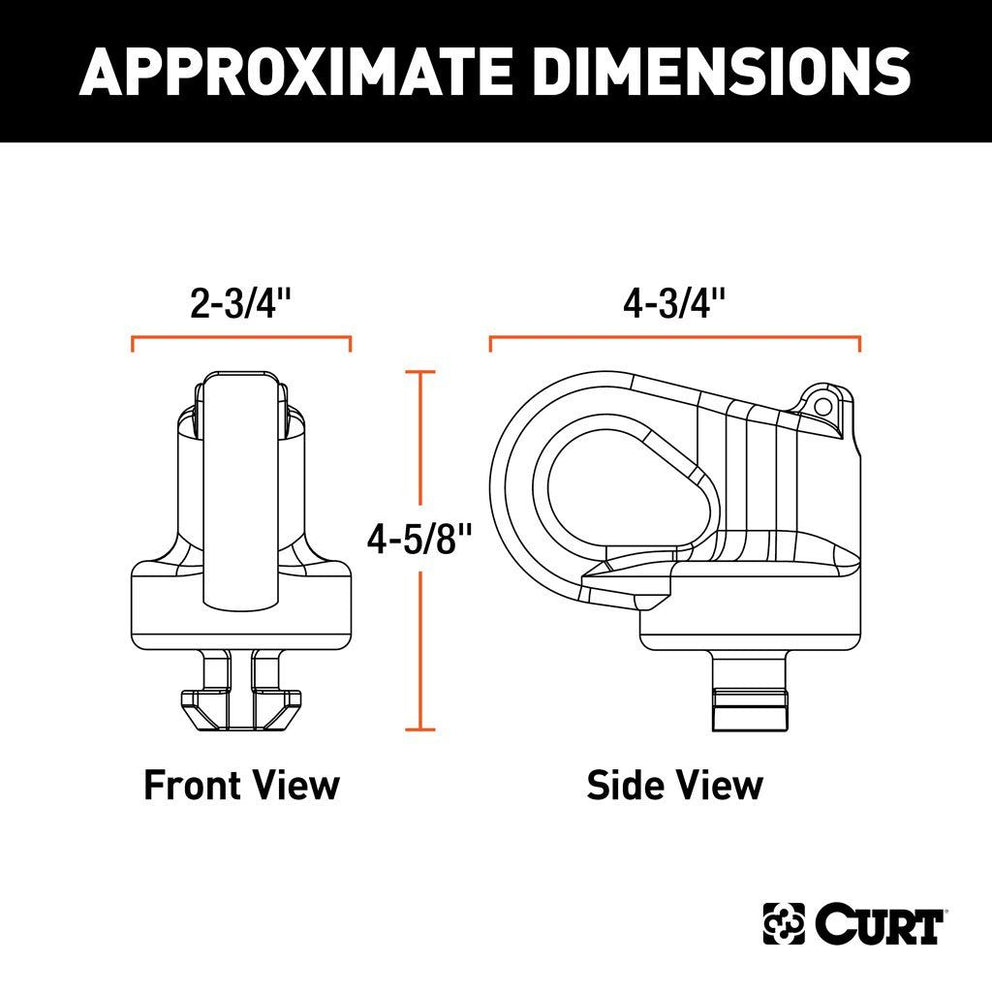 # CU60691
$112.99
Fits select Chevrolet, Ford, GMC and Nissan Titan XD puck systems Simple, drop-in installation eliminates the need for tools Wide loop openings accept large gooseneck safety chain hooks Forged steel anchors with durable carbide black powder coat finish Limited lifetime warranty (one-year finish, one-year parts) Notes: Requires Chevrolet, Ford, GMC or Nissan puck system for installation Includes two safety chain anchors Patent #9,452,647 Gooseneck Hitch Type : Anchor Part Type* Shipping Weight  : 12.000 Material  : FORGED STEEL Warranty  : Limited Lifetime Warranty (One-Year Finish, One-Year Parts) Finish  : CARBIDE BLACK POWDER COAT HUB_USA  : D25 Outfitting your pickup to tow a heavy-duty flatbed or livestock trailer is easy with CURT OEM puck system gooseneck safety chain anchors. Like our OEM puck system gooseneck balls, these safety chain anchors utilize the puck system built into certain pickup trucks today with the towing prep package. They feature a patented installation system, easily dropping into the truck bed pucks without any tools required. They feature heavy-duty forged steel construction with a durable carbide black powder coat finish, and they offer large safety chain loops to accept heavy-duty hooks. These particular OEM puck system gooseneck safety chain anchors are compatible with the puck system of select model years of the Chevrolet Silverado 2500 HD and 3500 HD, Ford F-250 and F-350 Super Duty, GMC Sierra 2500 HD and 3500 HD and Nissan Titan XD (see application info to verify fitment). The anchors can be purchased as a standalone item or as part of a complete kit (#60692) that also includes the OEM puck system gooseneck ball, a rubber hole cover and a durable storage case.
Cant find what you are looking for?
TRAILER PARTS & ACCESSORIES
Family owned and operated since 2008
CAN'T FIND WHAT YOU NEED?
Contact us and we'll get it!